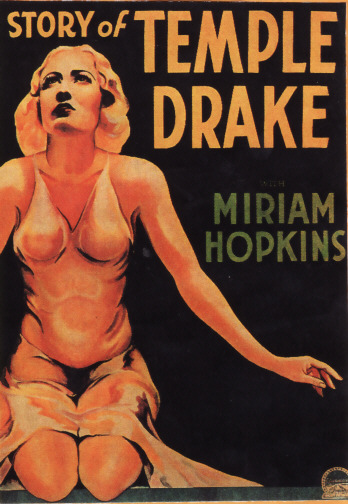 One of the most eagerly sought pre-Code films, Stephen Roberts' The Story of Temple Drake (1933), is showing tonight on TCM at 8:00 p.m. An adaptation of William Faulkner's 1931 novel Sanctuary, it stars Miriam Hopkins and features atmospheric cinematography by Karl Struss.
According to a source from Turner Broadcasting, "TCM paid for a broadcast master from MoMA's print materials – which were in great shape, as the film has essentially remained unseen for so long.  Although it's a Paramount film, Fox owns it, as they bought the underlying property, Faulkner's SANCTUARY — & the original film – for a remake in 1960."
I saw a poor-quality print several years ago and remember the film as an especially jaw-dropping pre-Code drama. I have not, however, seen the remake directed by Tony Richardson and starring Lee Remick as Temple Drake and Yves Montand (!) as Candy Man.