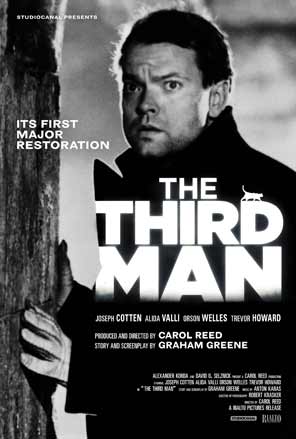 Let me say up front that the new Studio Canal restoration of Carol Reed's The Third Man (1949) turned out beautifully. I've seen the film multiple times over the years both on film and video, and this is its best incarnation yet. While that may seem obvious, not all digital restorations turn out equally well; it depends heavily on how the scan was done, what digital tools were applied, who did the color grading, and so on.
The image looks immaculate, while still maintaining strong detail and grain, and the film's gorgeous black-and-white cinematography (by Robert Krasker) truly shines, especially during the nighttime shots. One thing that struck me in particular was the uniform quality of the image across almost every shot in the film. Even the film's few dissolves blended seamlessly. In comparison, the now out-of-print Criterion Collection Blu-ray looked very good, but it had heavy grain; some reviewers felt that it was too heavy. That is certainly not the case with this new restoration.
Even though I've seen the film multiple times, this fresh viewing on the big screen helped me appreciate just how deftly Carol Reed staged many scenes. And Orson Welles may only appear toward the end of the film, but it remains one of his best performances. I suspect we have Reed to thank for that. In some of his own films, he had a tendency to rely on grotesque character makeup and hammy accents, with greatly varying results. Here he builds a performance more subtly and effectively out of facial expressions and reactions.
For a full list of upcoming screening dates in the U.S., check the Rialto Pictures website.